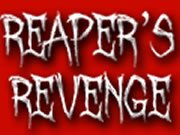 460 Green Grove Road
Scranton, PA
Details
Average Review

Scare Factor

Very Scary

Appropriate For

Not recommended for children under the age of 10

Organization Type

Commercial / For Profit

Listing Categories

More Info

Snacks & Refreshments, Outdoor Event(s), Indoor Event(s), Touching Allowed, Parking Fees May Apply
What lies within the realm of Reaper's Forest? Do you have what it takes to brave a haunted hayride, a dark forest, a pitch-black maze, and the zombie apocalypse? Venture into Reaper's Revenge Haunted Attraction in Scranton, PA, a 60-acre haunt featuring four terrifying attractions and more than 90 minutes of scare time!
Board the Haunted Hayride to begin your journey into the woods, but don't get too comfortable – you'll have to leave the safety of the wagon to enter the Lost Carnival, filled with the souls of sideshow freaks and deranged midway clowns. Make your way through the Tunnel of Love and venture next into Pitch Black, an indoor maze where you are robbed of your sight. Use your sixth sense to make it to the end, but be prepared, because the outside world isn't the same as when you first entered. Out in the moonlit post-apocalyptic wasteland is Sector 13, a horrifying maze populated by the ones who weren't as lucky as you.
Pennsylvania's Reaper's Revenge is a terrifying treat for locals, and close enough for a visit from New York or New Jersey. Voted America's Best Haunted Attraction, Reaper's Revenge is four haunts in one, combining a haunted hayride, dark forest walkthrough, pitch-black indoor walkthrough, and zombie maze. Test your fate at Reaper's Revenge Haunted Attraction!
Email Haunt Owner
2017 Schedule
September
Su
M
Tu
W
Th
F
Sa
1
2
3
4
5
6
7
8
9
10
11
12
13
14
15
16
17
18
19
20
21
22
23
24
25
26
27
28
29
30
October
Su
M
Tu
W
Th
F
Sa
1
2
3
4
5
6
7
8
9
10
11
12
13
14
15
16
17
18
19
20
21
22
23
24
25
26
27
28
29
30
31
November
Su
M
Tu
W
Th
F
Sa
1
2
3
4
5
6
7
8
9
10
11
12
13
14
15
16
17
18
19
20
21
22
23
24
25
26
27
28
29
30
Hours of Operation: On-site ticket booth opens at 6:00pm
Hayride opens at dusk
Ticket booth closes promptly at 11:00pm on Fridays and Saturdays; 10:00pm on Sundays
All customers must arrive on the property by 11:00pm on Fridays and Saturdays; 10:00pm on Sundays
Attractions remain open until all customers have gone through
Customers with pre purchased online tickets can proceed directly to the queue line
Admission Costs: General Admission: $45
VIP PASS: +$25 (Shorten your wait)
PARKING: $3
ZOMBIE PAINTBALL: $5

Groups of 25 or more, find out your group rate and order your tickets online!
Payments Accepted: Cash, Credit Cards
- event open dates
Event last updated 157 days ago. Please confirm dates on
haunt website
before you go.
All photos and videos within this listing are the property of Reaper's Revenge
Reaper's Revenge Haunted Attraction in Scranton, PA provides scary entertainment during the greater Halloween season. The best haunted event for the macabre, zombies, haunted houses, haunted hayrides, clowns and mazes. Reaper's Revenge Haunted Attraction is located near Scranton, PA easily accessible off of I-81.
Email Verified

Absolutely love this place

Really the visit to Reaper's Revenge was accidental. I haven't planned for the haunted house visit this year..but on my girlfriend's insistence that I agreed to go with her. And it turned out to be the best decision made.. the costumes and makeups of the actors were awesome…they did their jobs well... the scares were properly planned and arranged. Prefer VIP pass for smooth entry. Definitely great. I strongly suggest you do it soon.

| | |
| --- | --- |
| Scare Factor: | |
| Fun Factor: | |
| Haunt Value: | |

Posted November 2017

Email Verified

A do not miss attraction

Went to Reaper's Revenge last night with my GF. The overall performance in the haunt was great. The hay ride was terrifying, a totally different ride it was. We were in a wagon…but a lot of frightening experiences were awaiting us on the way.. the ride was very entertaining nevertheless and definitely they had put a lot of effort to create that set. The Guard Shack was great and I we were truly impressed by the performance of actors. My favourite was the trail towards the carnival. All the actors there looked like real monsters. I encountered the biggest fear in the Pitch Black. It really spooked me out. A do not miss attraction.

| | |
| --- | --- |
| Scare Factor: | |
| Fun Factor: | |
| Haunt Value: | |

Posted November 2017

Email Verified

Well Done

Good night out and would go again

| | |
| --- | --- |
| Scare Factor: | |
| Fun Factor: | |
| Haunt Value: | |

Posted October 2017

Email Verified

Super Horrifying

The most interesting part of the visit was the Sector 13. It was a horrifying maze. The chainsaw at the end of the visit was also awesome… there were other scares as well… my GF screamed and jumped few times.. actors played their parts well. I think Reaper's Revenge beats all the other haunted house in terms of scares and variety. Clearly, one of the best haunted house I have been for… All scare lovers check this one out.

| | |
| --- | --- |
| Scare Factor: | |
| Fun Factor: | |
| Haunt Value: | |

Posted October 2017

AMAZING! AS USUAL

My fiancé and I had the best time at Reaper's Revenge, as we always do. We actually plan to attend a few more times before the season is over! Great job to the people who put a lot of time and effort into making this attraction as great as it is, year after year! The changes to Pitch Black were phenomenal... I was sweating and felt on edge the entire time!

| | |
| --- | --- |
| Scare Factor: | |
| Fun Factor: | |
| Haunt Value: | |

Posted October 2017

Email Verified

Best Haunt in the northeast

Been to haunts all over the northeast this one blows all others out of the water. This is not only the scariest but has the best props, best actors and with 4 different attractions it lets you spend an entire night with loved ones, friends and family which you won't soon forget.

| | |
| --- | --- |
| Scare Factor: | |
| Fun Factor: | |
| Haunt Value: | |

Posted October 2017

Awesome!!!!

First time to Reapers Revenge and was totally amazed and thrilled. I've been to other Halloween attractions and this one is by far the best. Worth every moment and thrill. Can't wait until next year. Great job to everyone!!!

| | |
| --- | --- |
| Scare Factor: | |
| Fun Factor: | |
| Haunt Value: | |

Posted October 2017

Email Verified

Awesome

I went to Reapers Revenge today for my best friends birthday. I have some mobility issues right now, and everyone there was amazing! I couldn't do every attraction, but what I did see was fantastic! Thanks to everyone there for your kindness and help!

| | |
| --- | --- |
| Scare Factor: | |
| Fun Factor: | |
| Haunt Value: | |

Posted October 2017

Email Verified

Saddening to Leave

It was INCREDIBLE! I'm not a fan of scary things especially with all the recent killer clown sitings, but this was amazing. I actually didn't want to leave and I'm still sad that we had to leave. I live almost 2 hours away, but I'd definitely do it again, and I plan to.

| | |
| --- | --- |
| Scare Factor: | |
| Fun Factor: | |
| Haunt Value: | |

Posted November 2016

Great

BEST THING EVER , ACTORS,SETS, WAS PERFECT I GIVE IT A 10/10, GREAT JOB PAUL KOTRAN

Scare Factor:
Fun Factor:
Haunt Value:
Length of Event:
> 1 hour
Time Visited:
After 9PM
Would Recommend:
Yes
Suitable For Kids:
Unsure

Posted November 2016

Email Verified

absolutely terrifying. my first time.

Full of surprises and amazing intense attraction. I loved every moment of it ??

| | |
| --- | --- |
| Scare Factor: | |
| Fun Factor: | |
| Haunt Value: | |

Posted November 2016

Email Verified

Almost lost my teeth

I screamed so much and so loud that my upper partial dentures came out. I had to put then in my pocket so I wouldn't lose them . Was able to scream for dear life! What a scary fun safe expierence.

| | |
| --- | --- |
| Scare Factor: | |
| Fun Factor: | |
| Haunt Value: | |

Posted October 2016

1 out of 1 found this review helpful

Email Verified

Amazingly Terrifying

Loved Every Terrifying Second... Did ALL of the attractions in 1 night!!

| | |
| --- | --- |
| Scare Factor: | |
| Fun Factor: | |
| Haunt Value: | |

Posted October 2016

Email Verified

Excellent.

This is the best Halloween attraction I have ever been to. I have gone to many in different states around the USA. This is absolutely class act. Scary, entertaining and interactive. I can't say enough how awesome it was. At the end there is music playing with a big bon fire and food and drinks. It was a great time with my friends. Well done Reapers Revenge. Worth every penny.!!!!!

| | |
| --- | --- |
| Scare Factor: | |
| Fun Factor: | |
| Haunt Value: | |

Posted October 2016

Email Verified

Reapers Review

Reapers Revenge or as Iwill refer to it in my review as RR was a well done Haunted attraction that despite the handful of flaws was overall worth my money and a fun experience. A short background about myself to give some context to my review. I have alwys loved haunted houses and scaring people the most when it comes to the holiday. When I was younger I would set up a small thing in the front yard with a strobe light and fog machine I would utilize what I had to make it as scary as possible. I don't get scared at haunted attractions, I very much just enjoy going with friends who do and I try to scare them even more or help the actors by telling them the names of my friends and where they are in the line. I also admire the work that gets put into creating these huge worlds of horror. So now let's talk about Reapers Revenge. I went with 5 other friends on Saturday Oct. 22 2016. The first and biggest problem was not the "park" but the temperature, I was not dressed warm enough for this night, it was about 40 degrees and although not too windy the wind made it feel like 30. I had on 3 t shirts and a hoody along with jeans. I very much regreted no warm hat and I should have put on extra socks. The reason I bring this up is because although the weather can not be controled there are steps that could be taken to help people stay comfortable. The start of this whole experience was almost enough to make us walk out, and there are things what could have been done to help us stay happy. We all bought our tickets on line so we skipped the ticket line and went right into a short waiver signing line. I did not realize I would have to sign a waiver because my friend picked where we were going. But I was a bit excited when I saw we had to sign a waiver because I interpret that as potential to step up the experience. We got thru that line very quickly and I will say we probably could have skipped it so I am not sure if RR is taking the proper precautions to keep themselves from being sued, but that's for them to worry about. We quickly got in line for the hay ride. At the end of the ropes was a sign that said something like "3 hour wait" But we were not stopping at the end so we did not need to worry about that time. However it really wan't all that far we got before we were standing in line. It was too dark to see where the line goes so we had not idea how long it ould be. My first complaint is that they should have spread out some more markers giving people an idea of how much longer they would have to wait. We got in around 8 and finished that line around 10:45pm. It was about an hour into this cold long wait that I thought to my self they should have used tarps or something to make us some fences to help keep out wind. They had a big screen playing horror movies such as the Shining which was awesome, but there were not many speakers and only the right half of the line could really watch, so the left side really had nothing to take their minds off the wait and the right side pretty much got to watch a muted movie. But that line was way too long. I really wish we had bought the VIP tickets and if there was an easier way to gauge how much time that line would have taken we would have stepped out and upgraded. Once we finally made it out of that frozen 4 hour line of hell we were on the hay ride, but not before one of my friends broke down in tears panicing that she would get too scared and ended up getting a glow necklace so she couldn't be touched. Now that we were finally moving on the hay ride we were all very excited. The hay ride was a good lenght in time, but very un satisfying. It had about 3 parts I would consider good. Without giving anything about it way the 3 parts involved a disco ball, hillbillies, and a really tall reaper thing. The rest was very boring and not scary at all. One particular part I saw as a waste of a body was a guy in the trees on a short zipline, he did a quick zip over our heads but that was it, this could have easily been done with a prop and they could have used that person to do something actually scary. I did however love when they made us get off the hay ride to go into a small carnival haunted house and then get back on the hay ride. It is what I think many of us needed to get some energy and excitement, becuase looking around most people were very bored and cold until that part. So overall the hay ride was alright, about what most top places do, but they could have improved a lot to make it really memorable. After the hay ride we went to Pitch Black. I have only done this concept I think at one other Haunted place in a previous year. At that place it was just a somewhat small pitch black maze with no guidence at all, which I personally like, but in reality doesn't work well. Being in total darkness is very hard for many people and throwing in the confusion of possibly running into a dead end really messes up the flow of people. And my biggest problem was that people would just pull out their phones for a light, totally ruining the experience. At RR however I was pleasently surprised and I absolutely loved it. It was thin halls so you had to be single file, people could touch you and there were a few areas where people could jump out and scare you and have a flash of light, which worked 3 fold, 1 to scare people, 2 to help guide people, and 3 I would think they would yell at anyone using a phone, but I did not see anyone doing that. The Pitch Black experience at RR was fantastic and the best form of that experience I have had yet. Finally we were directed to Sector 13. This was a haunted house with an Area 51 theme. They start it off very military and you felt like a prisoner which was cool and different, and then it transformed more into crazy people doing experiments and making monsters. I don't want to say much, but here they grabbed my friend and put him on a table to experiment and I was dying with laughter. They also had some of the most amazing "infected" zombie actors I have seen that made such realistic zombie noises. What could they have done better as a business and as an attraction? look into ways to keep us happy in a 4 hour line, can they reduce the cold? can they keep us entertained? can they split up the line so it doesn't feel like a full 4 hours? They also needed to have a larger and better hang out space. We saw a bond fire and a stage, but we were in line the whole time so couldn't see much. What I saw though was very little. In terms of a business they should have been trying to sell the people in line some hoddies or hats to keep us warm. They had a small stand but was not very easy to get to and I don't think it had a lot. They could have had a lot more stands of food and heck throw some carnival games in there, it's easy money for them and keeps us busy. They could have been a lot more efficient with the use of people and they could have been a lot scarier, but overall it was very good and very fun. I would recommend this for anyone from people who are scared of their own shadow to people who enjoy the atmosphere. I would give this a 4/5.

| | |
| --- | --- |
| Scare Factor: | |
| Fun Factor: | |
| Haunt Value: | |

Posted October 2016

1 out of 1 found this review helpful

Email Verified

Wonderful Place

I can't stop telling people about this place. From the time you drive in until you leave everything is very exciting. Going AGAIN this weekend and I'm hoping to go on their closing date as well with more friends that haven't experienced the greatness. First, the entrance! My niece was already scared and we were just at the gates lol. Nice and dark ( lit enough to walk through safely) The lake by the walkway is gloomy and very spooky puts a great accent on the walk to the booth. Maybe next year a mechanical Jason coming up out the water would be WONDERFUL. The night we went the ticket line was at a zero (we like to go right before closing time to eliminate the wait) we waited in line still for about an hour maybe a little longer but TOTALLY worth it. The line entertainment was fun, some actors on the line with customers while you wait to get on the wagon put a little twist to the sometimes long wait in line. Movies playing online is a total plus, keeping people entertained while waiting. The Hayride: What can I say about this except for EXCELLENT! I loved everything about it the props the actors everything was just completely amazing and you can tell that they take great pride in putting all of this together for the best experience possible. Some scenes very scary some entertaining and others just down right funny. Overall a 10 Lost Carnival: It was very nice, imagination here is outstanding, made me feel like I was really in a run down carnival, wished for a little more interaction a few more actors but I had a lot of fun and the fact that we are walking in the middle of the woods puts a great twist to the fright factor. Surprise: Getting back on the hayride! Wasn't expecting to see it again after the Security incident, a pleasure having a small surprise and a little introduction to what you going to experience in Pitch Black. Pitch Black: Scariest attraction in my opinion. Not being able to see where you are going who is there touching you from the front or back where you are headed, the turns are unknown and the anticipation of "Where is the exit" keeps building and building as you go along, it almost feels like you will never see the light. (it comes though) Sector 13: Absolutely wonderful, from the line to the door you almost feel like you are going into a secured area. Like you are really about to experience some extreme bio-hazard business. The officers and scientist etc are so in character it's like you are an extra in a movie. This is where you ARE and WILL be separated from your group! I was left alone not once but TWICE, the first time I was kind of freaked out because she closed the door behind me and there I was all alone (or at least I thought) It really was a great experience though I got braver as I walked slowly through so that my group could possibly catch up and they did eventually, I got the chance to experience some of the scenes with other guests and that was a nice twist too. Overall a great great haunt and the price is perfect for the entertainment you receive. Expect to wait in line for an amazing haunt such as this one, after you get on enjoy the ride. We got there at 1030 and got home at 3am and it was worth every minute (3am because we stopped at McDonald's, all the screams and running makes you hungry lol) I will go here every year until I can't physically do it anymore!! 10 stars if I could (and for those complaining about waiting in line for hours, that is the purpose of having color coded calendar so those who are babies and don't want to wait for a good time can go on off days where crowds are smaller. Timing is everything too, if you go at 8pm expect EVERYONE to be there if you get there at 1030 like we did most people have gone through the attraction already because they're closing the line a half hour later anyway. Planning will let you have a great time. Enjoy and please visit, it is worth it!!!!

| | |
| --- | --- |
| Scare Factor: | |
| Fun Factor: | |
| Haunt Value: | |

Posted October 2016

1 out of 1 found this review helpful

Email Verified

They have had better years.

Not as many actors this year so it'was not as exciting also a lot of the movie characters and skits were gone or cut and that was always the best part. I also had an actor in the Sector be a little to rough on me almost feeling like the wind was knocked out of me. Maybe next year will be better.

| | |
| --- | --- |
| Scare Factor: | |
| Fun Factor: | |
| Haunt Value: | |

Posted October 2016

0 out of 1 found this review helpful

Love this place!!!

I had the best time at reapers revenge last night October 21 2016!!! I usually went to headless horseman every year but our group felt like cattle and waited on long lines. It wasn't worth it no more. I loved reapers revendge. The workers and actors were very realistic and wonderful. I can't really say one thing I liked the most because all was great!! I liked that the attractions were long and we didn't wait on lines! The bonfires were a big plus!! What a great place to go to. Very affordable. I will be going back next year!!!

| | |
| --- | --- |
| Scare Factor: | |
| Fun Factor: | |
| Haunt Value: | |

Posted October 2016

1 out of 1 found this review helpful

Email Verified

Fantastic Scares

This attraction is fantastic. The scares start on the walk from the parking lot to the line, with a creepy lake and wandering spooks. I considered getting a glow necklace (so actors could not touch me), and I am SO GLAD that I did not. Getting touched is part of the experience, and the actors are so professional - I got grabbed at least 25 times throughout all four attractions, and it was always scary but never uncomfortable. Reaper's uses all types of scares, and not just the paranormal - on the hayride alone you will experience the supernatural , the criminally insane, and the just plain unsettling. Sector 13 is a must-see : it is super interactive, and a different take on post-apocalyptic than what I was expecting. The story line is tight, and you wind up feeling like the star of your own horror movie. Your group will be split up, so prepare for that, and the actors really try to strip you of all your safety blankets - don't expect to get to hold onto your boyfriend's hand through the whole thing, because you WILL wind up separated. Don't skip Pitch Black. It's terrifying, it's unsettling, and if you are looking to be scared it's the best place for you. The best part of Reaper's is how well done everything is. The music is fantastic, and used not just on the Hayride, but in all four attractions so that throughout you have loud or creepy music, sometimes so loud that you can't think straight (especially navigating through Pitch Black). The make up and costumes are fantastic, the actors don't break from character and are spectacular at what they do. So much thought is put into the props, the timing, smoke and lighting; you are always able to be in the moment and never aware of wiring or speaker locations. All in all, definitely worth the price the wait, and the time.

| | |
| --- | --- |
| Scare Factor: | |
| Fun Factor: | |
| Haunt Value: | |

Posted October 2016

1 out of 1 found this review helpful

One wicked place

4 great events, amazing actors/actresses, great prices, always a suprise around the corner, good luck!!

| | |
| --- | --- |
| Scare Factor: | |
| Fun Factor: | |
| Haunt Value: | |

Posted October 2016

1 out of 1 found this review helpful

View all Reaper's Revenge Reviews
All information on this page was submitted to Pennsylvania Haunted Houses and was believed to be accurate at the time it was posted. Please report any inaccuracies
here
.