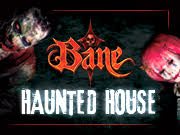 630 W Mount Pleasant Ave
Livingston, NJ
Details
Average Review

Scare Factor

Very Scary

Appropriate For

Bane is rated as a PG-13 attraction therefore our event is recommended for children 13 and up. Anyone under the age of 12 must be accompanied by an adult.

Organization Type

Commercial / For Profit

Listing Categories

Haunted Houses, Zombie Hunts & Shootouts, Escape Games, Not-So-Scary Haunted Houses (Kid Friendly), Kids Parties, Safe Trick or Treating, Other Events

More Info

Wheelchair Accessible, Snacks & Refreshments, Indoor Event(s), Covered Wait Area, Touching Allowed, Free Parking
TEST YOUR BOUNDARIES OF FEAR!!!
Looking for the scare of your life? Do you want to have an adrenaline rush unlike any other? Then come and test your boundaries of fear at BANE, NJ's scariest and most interactive haunted attraction. We are now proud to announce that BANE will be located in the old Katherine Gibbs College on Route 10 West in Livingston NJ! BANE has expanded from 17,000 square feet to a brand spanking new 40,000 square foot space and we're bringing the heat! Get ready for a brand new, crazier, scarier, and even more interactive haunted attraction that is guaranteed to knock your socks off!!!
But beware as you enter for little Jennifer Bane is awaiting your arrival... and...... she's HUNGRY!!!!
Deemed "The Scariest Haunted House in New Jersey" by The Star-Ledger, Bane Haunted House is entirely interactive. All of our spooks and scares come from live actors; there are no animatronics or stock experiences. In fact, each and every visit to our Livingston, NJ haunted house will yield a different result!
THE EXPERIENCE
Haunted house visitors are brought through the house in very small groups to allow for an up close and personal experience. Our actors will come into contact with you at points, but you are in no danger of being harmed.
Email Haunt Owner
Happily Haunted – 3pm-5pm only. $8
Children 12 and under must be accompanied by an adult will receive a flashlight guided tour through the attraction. There are no Zombies in the house during this time.
All photos and videos within this listing are the property of BANE Haunted Attraction
Email Verified

Not friendly

They could be more polite to the people who visit their attraction. I honestly loved the attractions but there are many places where we could fall down and hit ourselves. I fell once and when I asked for help their attitude was really bad that I don't like going back to this place again.

| | |
| --- | --- |
| Scare Factor: | |
| Fun Factor: | |
| Haunt Value: | |

Posted November 2017

Scariest haunted house

After 4 hours' drive we reached the Bane Haunted house and I can say, the experience we got was worth the drive. I had cousins for company.. never they were big fans of haunted houses. But their opinion changed in the next 30 minutes. All corners were occupied with some scares… The props were great and the sets were well designed too. One of the scariest haunted house I have been. I will come back again with my GF soon.

| | |
| --- | --- |
| Scare Factor: | |
| Fun Factor: | |
| Haunt Value: | |

Posted November 2017

Email Verified

Excellent

A haunt with different and unique ideas. The visitors may have to climb up, jump over and crawl through and to spin over inside the haunted house… so you got to be physically fit.. The actors were scary.. their makeup made them more spooky. The staff was friendly and cooperative. Ticket rates were economic too… Excellent work Bane. Surely we will be back.

| | |
| --- | --- |
| Scare Factor: | |
| Fun Factor: | |
| Haunt Value: | |

Posted November 2017

Don't go

When actors grab you and pull your hair as a part of making you feel scarier, it was ok and fun. But my case was little different I was already scared from top to bottom and when he grabbed I was freaked all out and he didn't let me go. I got out that instant and don't want to visit this place again.

| | |
| --- | --- |
| Scare Factor: | |
| Fun Factor: | |
| Haunt Value: | |

Posted November 2017

Email Verified

Terrifying adventure and fun

I and my boyfriend are so much passionate for Halloween fun. Bane Haunted House has loads of terrifying adventure and fun to refresh your routine life. There was some dark space and maze area to make us love with horror. My boyfriend was screaming like hell and I was enjoying the company. Escape rooms are decorated eccentrically with ultimate props and clowns. There were lots of twists and turns. Overall an amazing Halloween experience we had.

| | |
| --- | --- |
| Scare Factor: | |
| Fun Factor: | |
| Haunt Value: | |

Posted October 2017

Highest levels of fear

I really enjoyed the place. I wish it was longer. When I enter the place I think devils in my nightmares become real. OH MY GOD!! I can't look around that I am shivering with fear. The actors did an amazing job; also the setup was fantastic. Even it was an acting I can't recognize whether it was real or not. The dramatic performance really took to higher levels of fear. If anyone wants to experience a scary night you can visit here.

| | |
| --- | --- |
| Scare Factor: | |
| Fun Factor: | |
| Haunt Value: | |

Posted October 2017

Email Verified

Somewhat okay!

The haunted attractions I would say everything was fine. We had fun and scares times. The idea was all good but staff was really harsh. Actors were not realistic and were very poor in entertaining the guests. Not fully worthy. Can be rated an average haunt!

| | |
| --- | --- |
| Scare Factor: | |
| Fun Factor: | |
| Haunt Value: | |

Posted October 2017

Email Verified

Average one

I don't know what has happened that day as what I considered Bane Haunted Attraction was the well known haunted house. Everything was messed up, there were no control of management for the long lines. Some of the clowns were playing with bottles that can hurt anyone around drastically. Animatronics and music was the only interesting thing. In my point of view, it's an average haunted attraction.

| | |
| --- | --- |
| Scare Factor: | |
| Fun Factor: | |
| Haunt Value: | |

Posted October 2017

Email Verified

Scary challenging haunt

I with my two cousins visited the Bane Haunted House last week. It was pretty scary… the escape room arranged in Bane was just spooky amazing. The players will be locked in the room and they can only escape by solving a series of puzzles, riddles or clues within one hour. We exited with just 3 minutes remaining on the clock. One thing that makes the Bane a unique haunt is no animatronics are used in this haunted house. A lot of effort is put to build up this house and you can see that everywhere. The house spreads over 40,000 square feet and has more than 100 live actors there to scare us.. the scare factor was decent as well. Overall, a challenging haunt. I recommend this place to everyone.

| | |
| --- | --- |
| Scare Factor: | |
| Fun Factor: | |
| Haunt Value: | |

Posted October 2017

Intense and creepy

We visited Bane Haunted House with a group of 15 people, friends and friends of friends. After entering in, we found it interesting. All group members were from different age group and there was something for everyone. Scare factor was intense due to the creepy makeup and shadowy creatures. The way they have designed scare house, it forced everyone to get involved. Dark space was very mysterious. It was a great choice for all scary lovers.

| | |
| --- | --- |
| Scare Factor: | |
| Fun Factor: | |
| Haunt Value: | |

Posted October 2017

Now try the best!

I've tried every haunt I could find and this is my favorite so far! As a 42 year old "kid", I have lots of experience. And for someone as passionate about Halloween as I am I have to say Bane did an awesome job. Its a great value, too. It takes a lot to scare me but being separated from my group actually pit me on edge. And I got to actually enjoy several real scares! Awesome job, Bane. I'll be back no doubt!!

Posted November 2014

1 out of 1 found this review helpful

Check this out

Took the 1 hr ride from E.Burg last night. This place killed it. The hype is real about this place no doubt. Scary and the BOX was worth the trip all by itself. You have new fans for sure. They are doing some Zombie shooting game next month that looks REALY cool. Def make a trip to this place.

Posted October 2014

1 out of 1 found this review helpful

Worth the Drive from Long Island

I'm from Long Island and I drove out to Bane's this passed weekend with a couple of friends. Great scare and I'm not easy to scare. Going again weekend after halloween. Can't wait!

Posted October 2014

Great!

Better then most of the ones I've been to.

Posted October 2013

terrible

bane is just absolutely awful. The scares are predictable and suck. The actors think yelling and just being rude is scary. Also we were told that the actors can touch you before we entered. I never signed anything saying that i consent to being touched. at the end of the terrible "haunt" i was grabbed and shoved by one of the clowns. Not worth your money to go here. Just a shitty place to go i have nothing good to say about this place.

Posted October 2013

1 out of 2 found this review helpful
All information on this page was submitted to Pennsylvania Haunted Houses and was believed to be accurate at the time it was posted. Please report any inaccuracies
here
.