13 Hours of Pure Terror at Overnight Camping Experience Awaits You at Kim's Krypt Haunted Mill This June!
Home » Blog » Pennsylvania's Best Weekend Events, Pennsylvania Haunts: An In Depth Look, Pennsylvania Haunt News
January 29, 2018 By Wendy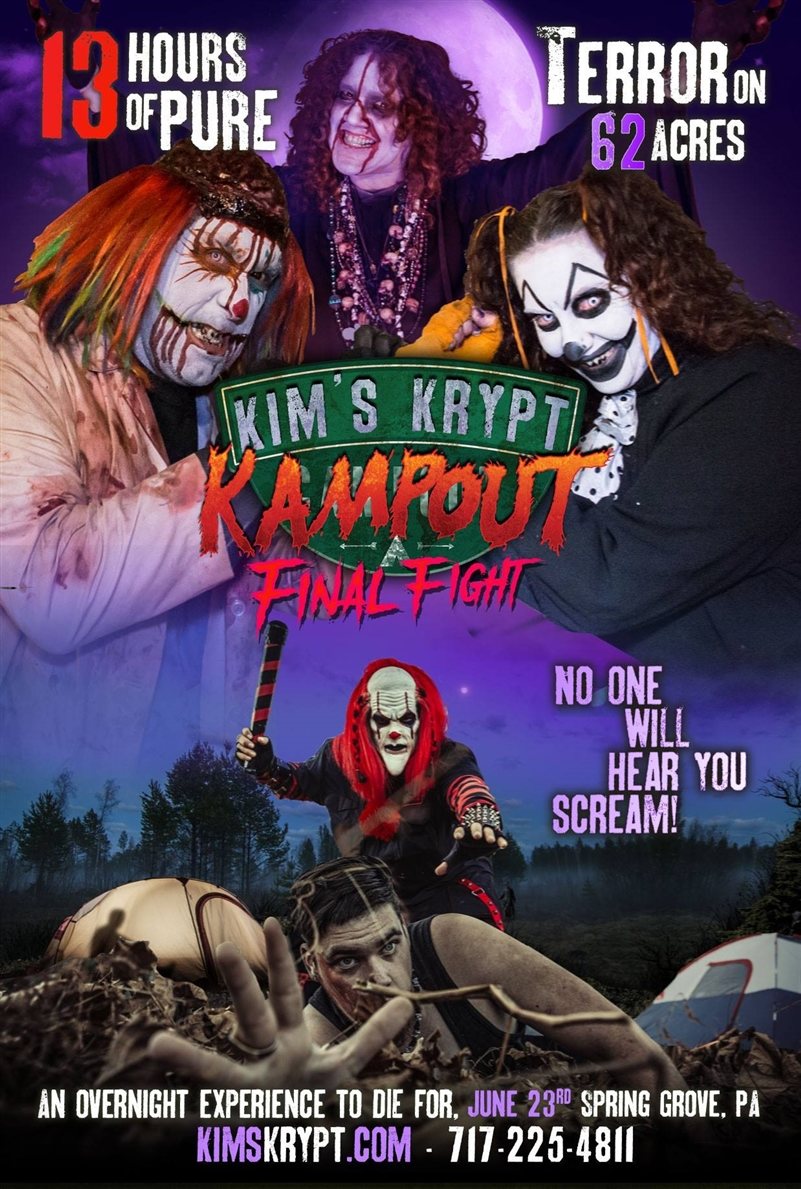 3rd Annual Kim's Krypt Kampout "Final Fight" at Kim's Krypt Haunted Mill.
Photo by:
Kim's Krypt Haunted Mill.
Darkness, seclusion, and abduction occurs on 62.5 acres of woodland. These are just some of the horrors to experience in a unique 13-hour overnight camping experience at Kim's Krypt Haunted Mill this June! The 3rd annual Kim's Krypt Kampout "Final Fight" interactive event is a scavenger hunt experience that you can enjoy with your bravest friends and family members as freaks, cannibals, clowns and zombies are out to get you.
Make it a summer camp-out to remember with tents provided for 2 or up to 10 victims. Experience ghost stories, a campfire to marshmallows, and horror movies under the moonlight. Experience intense fear with sudden abductions from your group and horror games and challenges. Cash prizes are also handed to the top 3 scavenger hunt winners.
The 3rd annual Kim's Krypt Kampout "Final Fight" event kicks off on Saturday, June 23rd, 2018. The event includes dinner, breakfast, refreshments, and a gift bag filled with horrifying goodies. If you want to stay in a safe zone while snoozing during the overnight camping experience, there is the option to enter the Safe Tent Zone area.
Ticket sales begin on Thursday, February 1st. Tickets will sell out! Purchase your tickets online ahead of time. All participants must be 18 years or older by the event date.
Get ready for a fight for your life in the woods, if you dare!