"ZombieTown USA" Festival Coming to Altoona this October!
Home » Blog » PAHauntedHouses.com News and Updates, Pennsylvania Haunt News
September 18, 2018 By Chelsea T.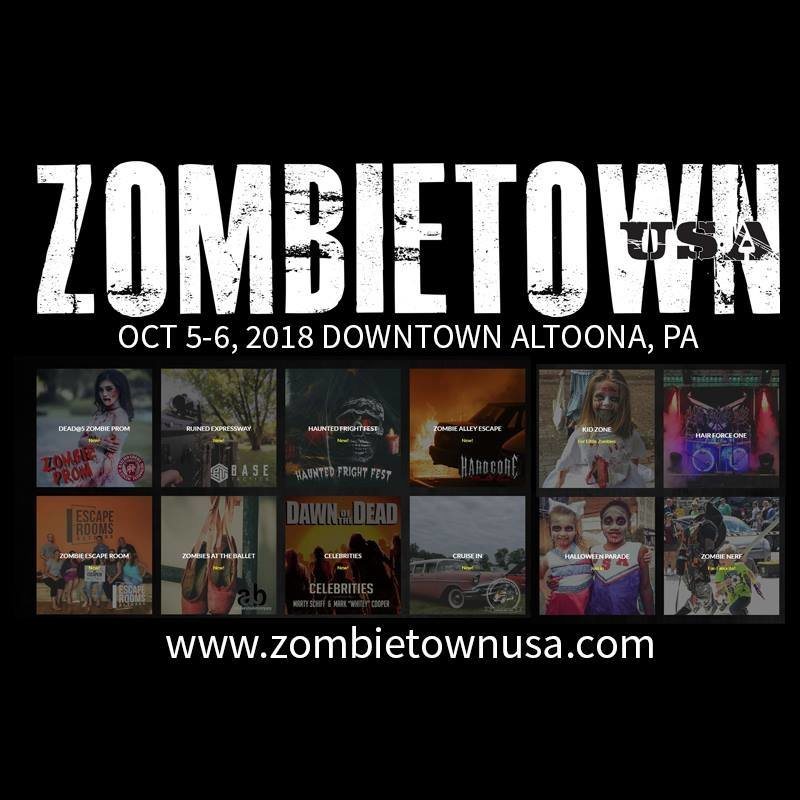 The Halloween Season is right around the corner and those in the town of Altoona, Pennsylvania will be welcoming the month of October with the ZombieTown USA Festival! Taking place on October 5th and 6th, the festival is one of a kind and is ideal for those who are obsessed with all things undead.
The zombie inspired event is suitable for those of all ages, so if you have little ones who are fans of the flesh-eating creatures, they can come along too! Beginning at 11:00 AM on the 5th, the Blood Frenzy Blood Drive will kick off the event at the Railroaders Memorial Museum.
At 5:00 PM, the gates will open for full lineup of evening events featuring the Dead@5 Zombie Prom, where zombies get in for free! Additional evening events include the zombie survival runs, costume contest, car show, dance performance, ghost tours and more!
Then on Saturday the 6th, ZombieTown will take over Historic Downtown Altoona with even more apocalyptic awesomeness. Visitors will enjoy live music, food, fall beverages, vendors, and even some celebrities from Dawn of the Dead!
There will be haunted houses, escape rooms, laser battles, zombie obstacle runs and Nerf wars, too! At 4:00 PM, the Halloween Parade will begin, followed by a jam-packed line up of evening entertainment. The weekend will come to an end with a showing of the original classic, Night of the Living Dead.
Click here for more details on the ZombieTownUSA event!