Share Some Scares by Working at a Haunted Attraction here in Pennsylvania this Halloween Season
Home » Blog » PAHauntedHouses.com News and Updates, Pennsylvania Haunt News
August 23, 2016 By Chelsea T.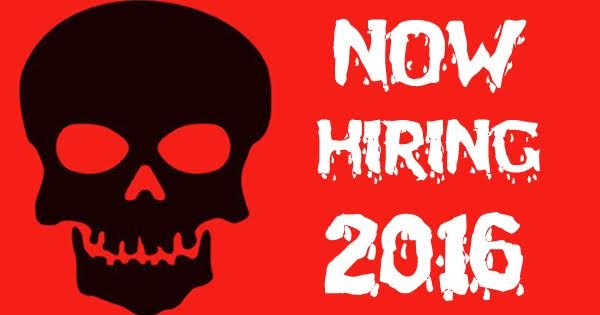 Haunted Attractions are an essential part of the Halloween Season, and there are a number of employees both behind the scenes and out in the center of the chaos, to assure that all goes smoothly throughout the season.
Whether you're a scare actor who gets up close and personal with visitors, or a makeup artist who creates the horrifying characters thrill-seekers come to see, each position plays its role and is a major key to the haunt's success. If you're interested in becoming part of a haunt family, check out the attractions below that are currently hiring for the 2016 Halloween Season!
Demon House
417 Coyle Curtain Rd., Monongahela, PA 15063
Note: Must be 16 years or older. If under 18, applicants must be accompanied by a parent or guardian.
Fear Hollow
1600 Church Rd., Mountain Top, PA 18707
570-261-0333
Note: Applicants must be 14 or older to apply.

Jason's Woods
99 Stehman Rd., Lancaster, PA 17603
717-875-5110 | jasonswoodsonline@gmail.com
Reaper's Revenge Haunted Hayride
460 Green Grove Rd., Scranton, PA 18447
570-254-8038
Note: Must be 14 year or older.
Is Your Haunt Hiring for 2016? Let Us Know!