"NEVERMORE: A Gothic Murder Mystery Dinner Show" to Take Place at Haunted Hills Estate
Home » Blog » Pennsylvania's Best Weekend Events, PAHauntedHouses.com News and Updates, Pennsylvania Haunt News
February 5, 2019 By Haunt News & Press Releases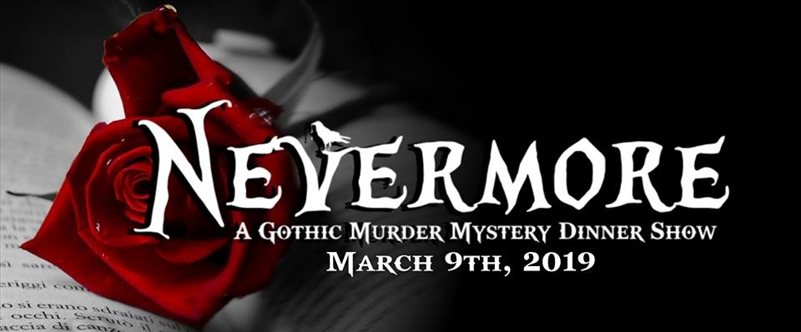 Photo by:
Haunted Hills Estate via Facebook
FOR IMMEDIATE RELEASE - Uniontown, PA - February 5th, 2019 - For some people, Halloween doesn't end in October. In fact, one may argue that the cold, dead air of winter may be more fitting for dark and dreary celebrations.

Haunted Hills Estate in Uniontown will be presenting "Nevermore: A Gothic Murder Mystery Dinner Show", a 4 - Hour, entirely immersive theatrical production, for 1 night in March. This promises to put a new spin on the typical Murder Mystery Dinner, as audience members will have to assist real-life representations of classic Gothic Authors in solving a mystery.

"For over 15 years, Haunted Hills Estate has produced a string of yearly Murder Mystery dinners that have gained quite a dedicated following," says Aidan Finnegan, the event's Marketing Director. "We decided to bring yet another unique experience to the area by resurrecting some of history's most well-known Gothic authors."

The event features a delicious pasta dinner, preceded by hors d'oeuvres and culminating in dessert. The experience begins as soon as guests check-in at the event's registration desk, from which they are escorted to their table by a member of "The Raven Society," a mysterious group who seem to be "pulling the strings" at this event. Interactive and up-close performances are combined with chilling sound effects and terrifying costumes for "a ghoulishly good time."

The story takes place in a cemetery, to which the Raven Society have invited a myriad of history's most well-known horror authors, including Edgar Allen Poe ("The Raven", "The Tell-Tale Heart", "The Cask of Amontillado"), H.P. Lovecraft ("The Call of Cthulhu", "At the Mountains of Madness"), and Mary Shelley ("Frankenstein").

"Fans of classic horror stories will find this story entertaining, as the themes found in the authors' stories may act as potential motives and personality traits. Solving this mystery will take creative thinking," says Finnegan.

"Nevermore: A Gothic Murder Mystery Dinner Show" will be hosted at the West Leisenring VFD Hall on March 9, 2018, starting at 5:30 PM, Seat reservations are $45 per person, and tickets must be purchased in advance via their website.