Kim's Krypt Haunted Mill Presents 'Kim's Kryptmas' & Family Friendly 'Winter Wonder Trail' this Holiday Season
Home » Blog » Pennsylvania's Best Weekend Events, PAHauntedHouses.com News and Updates, Pennsylvania Haunt News
December 1, 2018 By Chelsea T.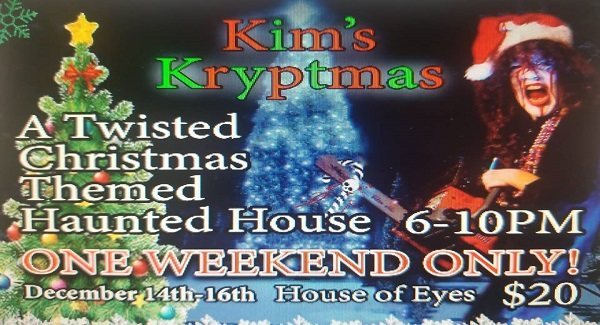 During the Halloween Season, Kim's Krypt Haunted Mill of Spring Grove gives thrill seekers a run for their money with their horrifying haunted attractions, including their unique overnight camping event.
Now, for the holidays, they'll be presenting 'Kim's Kryptmas' - a Christmas event that has a terrifying twist! The haunt will take place one weekend only, from December 14th-16th from 6:00-10:00 PM.
The haunted house will be themed around 'A Twisted Christmas,' where visitors will roam the House of Eyes and Deck the Halls with Bloody Dollies! Tickets for the haunt are $20 per person.
Along with the scares, Kim's Krypt will also be hosting a family friendly walk, 'Winter Wonder Trail' on weekends from November 30th-December 30th from 6:00-10:00 PM. The stroll will feature a friendly walk through the woods, music, festive lights and holiday cheer!
Click here for more details & to purchase your tickets!