13 Hour Interactive Haunt Experience 'Kim's Krypt Kampout' Coming to Spring Grove this Summer!
Home » Blog » PAHauntedHouses.com News and Updates, Pennsylvania Haunt News
January 5, 2019 By Chelsea T.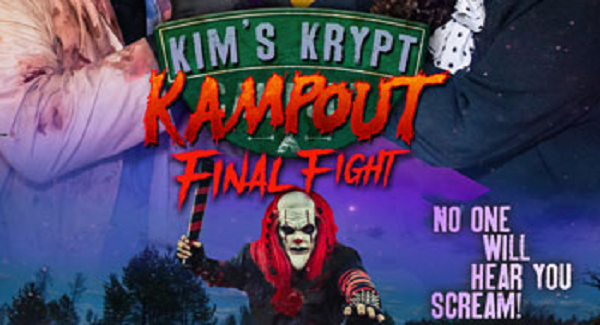 Do you have what it takes?
Need a Halloween fix? Kim's Krypt Haunted Mill of Spring Grove will be hosting their overnight interactive camping experience this June, giving thrill seekers a dose of the spooky season during the summertime.
The 13 hour horror kampout will take place at the haunt which offers 62 acres of pure terror during the Halloween Season. The event will feature a hands on, interactive, team oriented scavenger hunt throughout the land the attraction sits on.
Kim's Krypt will have a number of tents set up in the woods, where they can accommodate up to 10 victims. Participants will not only enjoy some frightening fun, but will also listen to ghost stories around the kampfire, complete with marshmallows and outdoor horror movies under the moonlight.
After the 13 hours is up, victims can enjoy breakfast, tea, lemonade and will leave with a specialty gift bag with a limited editions t-shirt and other scary-good horror goodies.
The terror will take place throughout the entire 13 hours, but if you'd like to get a wink of sleep, there will be a "Safe Zone Tent" option. According to the haunt's website, the event will feature "Fun krazy, horror games and challenges may include blood, guts, gore, removal from tents, separation from group and intense FEAR!"
Cash prizes will be awarded to the top three scavenger hunt winners. All participants must be 18 years or older and be willing to sign a waiver before taking on the terror. Tickets for Kim's Krypt Kampout go on sale February 1st. Don't miss out on the summertime scares that will take place on June 22nd!
Click here for more details.