Pennsylvania Restaurant Is Crawling with Ghosts This Halloween Season
Home » Blog » PAHauntedHouses.com News and Updates, Halloween Headlines
October 8, 2019 By Wendy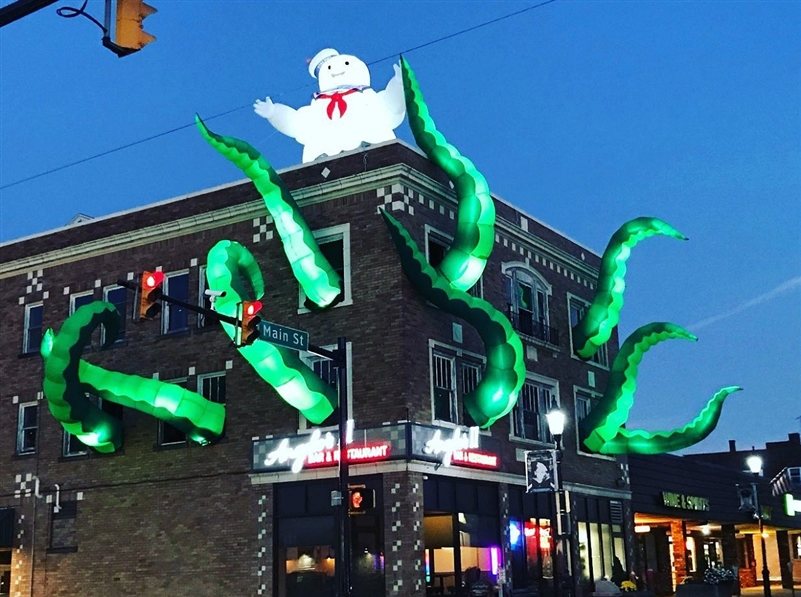 Photo by:
Angelo's II via Facebook
Someone needs to call the Ghostbusters! There's an Italian restaurant in Pennsylvania that's crawling with ghosts and there are green tentacles bulging out of the building.
While not a haunted house attraction, it is a sight not to miss this Haunt/Halloween season. Angelo's II, an Italian restaurant located in Monongahela, Pa. is responsible for the Ghostbusters-themed Halloween decoration that includes an inflatable Ghostbusters Stay-Puft Marshmallow Man on the rooftop.
The restaurant has been known to decorate for certain holidays, but it's their first year for Halloween decorations, according to the restaurant owner Ryan Dzimiera who was speaking with a local news station.
Monongahela is located south of Pittsburgh. While checking out the decoration, also stop by a nearby haunted attraction – find haunts at PAHauntedHouses.com!