Pennsylvania Ghost Tours
Educate yourself on some of your area's beloved history and pick the brains of experts, while exploring an unknown world right in your backyard. Ghost tours are a fun way to learn about the supernatural world that lies within Pennsylvania with a side of enjoyment. Discover all of the wild and mystical fantasy-like attractions that haunt from Lancaster and all the way up North. You never know what kind of ghosts and haunts you'll come across, but they're all real and in the moment. What better way to learn about PA's past than with a little haunt you won't soon forget?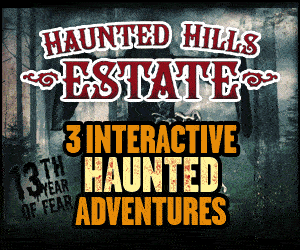 Located in Uniontown
Open today!
Spice up your weekend and visit HAUNTED HILLS ESTATE, in Uniontown, Pa. Two hours of unique and original haunted entertainment! Break the CURSE on the Challenge Trail, check into the Legends Hotel for a killing experience and silently creep into the Twisted Nightmare Escape Room for a clowning Read More