Ghost Lake at Conneaut Lake Park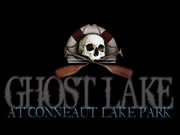 12382 Center Street
Conneaut Lake, PA
Details
Average Review

Scare Factor

-

Appropriate For

-

Organization Type

Commercial / For Profit

Listing Categories

More Info

Touching Not Allowed, Free Parking
more horror than anyone can stand. over 2 hours to make it through if you can. new for 2013 the all new 13 level of fear at ghost lake. the haunted amusement park has exploded into 13 levels of fear. much more terror than ever before. ambulances will be on hand for the faint of heart. check with your psychiatrist before you dare the 13 levels of fear. chicken out spots are not an option.
Email Haunt Owner
Email Verified

What a waste of time...

First, when they say over 2 hours be prepared to waste your time standing in line not doing anything, while people with their "fast passes" jump to the front of the line, creating more congession than necessary, I guess that's what 5 more dollars gets you. The "scares" that they provide are nothing more of a joke and screaming in your face, but nonetheless there are a few good moments but that hardly makes up for the rest of the experience. Other things to note are that it's not very handicap friendly, be prepared for large amount of fumes from constant chainsaws, a good amount of scarers weren't really doing anything, what great performance..., also there were a fair amount of times I almost kicked people that grabbed my ankle out of reflex, also, I know that it being dark is good, but when it's so dark in some places you cant see and have to stop, thus slowing everything it really just becomes annoying, oh there were also people that claimed to have a fast pass simply cutting in front as well, good job there I must say. What else to say, the one ride was under maintenence, so nothing there, don't expect anything from the attractions, I felt annoyed most of the time as well as the people I was with, just slowly getting more annoyed the further this went, also I don't think a corn maze should be advertised, when it is not an actual corn maze. So before I continue to list more issues, I'll just sum it up, I would say don't waste your time and money going to this, unless you're bored and have 25 dollars to waste, or you could have some friends over, watch some spooky movies and such, and spend that 25 dollars on food and drinks, trust me, you'll have a much more entertaining time than standing in line doing nothing just to go through some maybe decent, probably not, attractions that lead to dissapointment, but whatever you choose I hope you all have a wonderfully spooky Halloween! Actually I'm not done, sorry, but after my experience through "the purge" thus literally became the worst thing ever, walk through a proably asbestos filled house which is filled to the brim with fog, so you can't breath and end up all sticky, not to mention it's extremely dark and dangerous, and if you try to turn a light on to see so you don't hurt yourself, you get yelled out by some bratty kids, well sorry I don't want hurt myself in your trashy place, oh yeah the staff really isn't all that helpful and you don't really know where to go half the time, yet again more great planning. At this point I decided to just leave, as I was done dealing with this farce, so I end my night with time and money wasted a bad cough and a massive amount of dissapointment, so once again don't go and save yourself the trouble. 0 of 10 would never come again.

| | |
| --- | --- |
| Scare Factor: | |
| Fun Factor: | |
| Haunt Value: | |

Posted 10/30/16

1 out of 1 found this review helpful

Email Verified

NEVER AGAIN!!

We went the other night. Got there around 8:30 and left before one. Only got to go through 4 levels. Waited in line over 2 hours before we ever got to the first level!!!! Too many young kids working this thing. No reason to be touching the guests either. There was not direction. The people working the entrances were smoking and laughing and not paying attention at all. Never did get to ride the Devils Den or Blue Streak. Sad, this could have a lot of potential but it definitely needs to re-vamped and also needs to be scarier. Wont go again. I would have just rather donated the $$$ to the Park then go through this!!

| | |
| --- | --- |
| Scare Factor: | |
| Fun Factor: | |
| Haunt Value: | |

Posted 10/18/16

5 out of 5 found this review helpful

Email Verified

Long lines, not great

We drove an hour and a half to come to this haunted house, expecting to have a great time. NOT THE CASE. we got there just before 8 and waited over an hour and a half to even get into the first "level" and it wasn't scary at all. We left at 12:30 and had only gone through 4 of the levels. Not scary and lines were way too long. Definitely wouldn't recommend it unless you enjoy throwing away $25.

| | |
| --- | --- |
| Scare Factor: | |
| Fun Factor: | |
| Haunt Value: | |

Posted 10/16/16

3 out of 3 found this review helpful

Email Verified

13 Levels of Waiting in Line

Ridiculously long lines and nothing in between. Too many people allowed in the houses at once so it's not even scary. Got sprayed with water or something in the upstairs house attraction. What's the purpose of all the bubbles on the floor in the devils house. How is entering the gate a level of fear?! The workers in the scarecrows revenge admitted to not doing their job and were standing out masks off. People grab and touch you. Way over priced, you wait in line for 4 hours to only spend 1 hour in the houses. The scariests part was the mass amount of people on the stairs in the hotel hoping it didn't collapse. If you're gonna charge $25 per person plus parking hire more people to make this scary and allow people to wander through attractions out of order. 13 levels of waiting in line is a much more fitting name. Disappointed.

| | |
| --- | --- |
| Scare Factor: | |
| Fun Factor: | |
| Haunt Value: | |

Posted 10/16/16

4 out of 4 found this review helpful

Email Verified

AWESOME TIME!

I have gone 2 years in a row and I'm going this weekend. I love this place! You can get drinks as an intermission through the venues in the haunted hotels. It is in an amusement park and ending with a roller coaster. I wish I had snagged up the coupons but I'm going anyways!!!! For everyone saying it's a long boring walk, you're doing it wrong!!!!

| | |
| --- | --- |
| Scare Factor: | |
| Fun Factor: | |
| Haunt Value: | |

Posted 10/14/16

1 out of 3 found this review helpful

eh

They did not have enough scarers. The one attraction we walked through only had 1 person scaring... and we waited in line for a while for it... what the heck?

| | |
| --- | --- |
| Scare Factor: | |
| Fun Factor: | |
| Haunt Value: | |

Posted 10/2/16

5 out of 7 found this review helpful

worth the visit

Good hunted house but needs something in between the houses

| | |
| --- | --- |
| Scare Factor: | |
| Fun Factor: | |
| Haunt Value: | |

Posted 8/20/16

1 out of 4 found this review helpful

My new favorite tradition!

My new favorite tradition! I'm bringing everyone I know from here on out. Looking forward to next year.

| | |
| --- | --- |
| Scare Factor: | |
| Fun Factor: | |
| Haunt Value: | |

Posted 10/26/15

4 out of 6 found this review helpful

Not worth the price they charge

This was our first visit here. And definitely our last ..Was not scary at all , way over priced .. Touched multiple times inappropriately..very few "workers" in any attraction ..just a long boring walk ... If it was 10 dollars to get in fine ... Not worth what they charge save ur money and go to another that will at list give u chills ....the only chills u will get here is from handing over 200 dollars for ur group to go threw ....needless to say we left before the end ..

Scare Factor:
Fun Factor:
Haunt Value:
Length of Event:
> 1 hour
Time Visited:
After 9PM
Would Recommend:
No
Suitable For Kids:
No

Posted 10/23/15

6 out of 8 found this review helpful

had fun

7 out 10 better than average could of used directions from one location to next, long line at first then not bad wait time after the first one , you get your 20 bucks worth didn't care for purple maze or zombie.

| | |
| --- | --- |
| Scare Factor: | |
| Fun Factor: | |
| Haunt Value: | |

Posted 10/11/15

2 out of 4 found this review helpful

Best haunt ever

This was the absolute best haunted house for adults! There is even a bar pit stop in the middle of the hotel totally worth it! Bonus roller coaster at the end!

| | |
| --- | --- |
| Scare Factor: | |
| Fun Factor: | |
| Haunt Value: | |

Posted 9/18/15

7 out of 10 found this review helpful

ghost lake is awesome

ghost lake is one of the best haunted houses i have ever been to P.S Im katy and I work there

Posted 11/19/14

3 out of 11 found this review helpful

crappy

This was a total waste of time drove 1hr 30 mins for horrible boring time. All the actors did was scream in my face witch i thought was lame and rude. Was all the same thing in every house banging and air guns blowing in my ears..Not only that it was very unorganized. Had to walk threw mud to get to the next place never again!

Posted 10/20/14

9 out of 12 found this review helpful

LOVED GHOST LAKE

When I went last year we didn't wait that long in line and we all had a BLAST! It was so scary! I hated when the workers wouldn't leave me alone when I was in line as they put chainsaws near me, that was annoying. BUT overall I loved all the haunted houses and the roller coaster!!! Definitely worth it. Can't wait to go again this year :)

Posted 10/13/14

2 out of 4 found this review helpful

Unorganized

Very unorganized and just a lot of young people screaming in our ears. That is NOT scary. Made us go in order and each level was hard to find until the end. We ended up skipping the last few because it took so long to go through and we traveled far to get there. Also, I have never been in any haunted attraction where they were allowed to touch you! Not cool. I did like riding the roller coaster in the pitch black. That was pretty scary.

Posted 9/30/14

7 out of 9 found this review helpful

New review

13 levels of fear, very fun, long and got lost a little finding next attraction. Only let down was the zombie hell, which was laughed at and not scary at all. Last house on the left, and demon house were worth going through a few times. Had a great time

Posted 9/28/14

5 out of 7 found this review helpful

not good at all

The monsters tried picking a fight with customers, only like 5.people in several of their houses if u were lucky . I WAS not happy at all it was a waste of money .

Posted 10/22/13

5 out of 9 found this review helpful

aweful

The absolute worst waste of money. Never will I pay anything in conneaut lake park. Run down nasty horrible. Unorganized money hungry rude disrepectful workers. I was hit body checked touched....so unprofessional. We were in line 3 1/2 hrs to see 5 of the worst not scarey haunted attractions. Not worth $5 let alone the $150 us 6 adults spent.

Posted 10/13/13

6 out of 10 found this review helpful

Bad Set Up

We went, stood in line for 30 minutes just to get tickets to go in. Once you get in, you find out that you have to do all the houses in order. The line for the first one about a quarter mile long. If you don't make it into the first one by 10:30, then you are just out of luck. We got there at 8 and had serious doubts about getting in. Didn't even stay, sold our tickets to someone waiting in line and left. In the past years, it was awesome. Loved it. This year though, let's just say I'll never go back. By the way, no where on their site or facebook page does it say that it must be done in order.

Posted 10/13/13

4 out of 7 found this review helpful

Very fun and good!

13 levels of fear this year and was a great night to go and have fun!

Posted 10/2/13

2 out of 4 found this review helpful
You Might Also Be Interested In...
All information on this page was submitted to Pennsylvania Haunted Houses and was believed to be accurate at the time it was posted. Please report any inaccuracies
here
.